Best Carp rigs!
Click on 'Birthday' (to the right)
59.5 lbs and will probably be ever bigger in 2023
and you will be able to follow a link to the sort of rig you can use to catch her. A simple but effective 'hair rig' using knotless knots - the videos on this site may be of use if you're not sure how to tie this rig variation. And she is not alone - we've added even more BIGGIES now!
Our Carp:
We mostly have commons and mirrors, both in Top Lake and Bottom Lake.
We know this is the most important section of the most important page on our site, that's why we have spent some time trying to get it right for you. We want to help you catch the big ones - these rigs and baits should help you do just that.
Click here for some interesting tactics you help you pull the big one!
Click here for info on which baits to use
Click here for some different rig ideas, lots of them
Our Catfish:
If you are coming to fish wit us to try for the Catfish, you might like to have a look at this section - this is what our friends at www.welscatfish.co.uk recommend.
If you click on this link you will be transported to their page of the best RIGS FOR CATFISH and here you can find out what our friends suggest for you to use as BAITS for these monsters.
Of course when you come to us, if you know which baits you want to use, just tell us what you want and we will get it in for you.
If not don't worry, we'll make sure you have all you need to give you the best chance to pull the big one!
There are no 'Poisson Chats' in any of our lakes! If you are not sure what this is, please click here to find out - they can be a real pest in some French lakes, but not ours!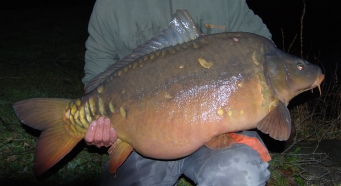 Commons and Mirrors in both Top and Bottom Lakes - and now Grass Carp in Top Lake too.
A typical Wels Catfish - awesome to catch!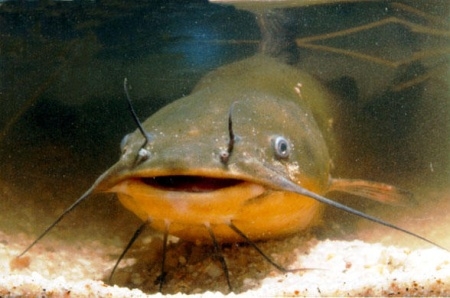 We are not saying our Carp or Catfish are the biggest in the world but we know we have some good sized fish of each species in our lakes and that these fish would be excellent fun for you to catch and of course, for you to photograph. Don't forget to send your photos to us at info@FishinFrance.net
Don't forget to contact us in good time if you would like to fish with us. If you email us your requirements we will be back to you with a full party or per angler price within 24 hours - that's a promise!
We've got your dream fish and...
we won't be beaten on price!