Updated: Saturday 28/03/2020
FOR ALL OUR ANGLERS BOOKED IN THE MONTHS OF APRIL, MAY and JUNE, DAVE (The lakes' owner) IS PLANNING TO RE-SCHEDULE THESE DATES TILL LATER IN THE YEAR or PERHAPS SOME TIME NEXT YEAR - AND ALL THIS OF COURSE IS DUE TO THE CURRENT HEALTH SCARE SITUATION WITH THE CORONAVIRUS.
SO IF HE HAS NOT CONTACTED YOU PLEASE GIVE HIM
A RING ON 00 33 555 600 163 or email him at seewolf@tiscali.co.uk

Welcome to Fish in France.net

Are you thinking of
Carp Fishing in France
in 2020 / 2021?
Then this is your gateway to a great Carp Fishing Holiday.
All year round fishing with Carp to 60lbs plus...
in

2 very well stocked lakes

.
All dates £325 per head - small deposit
Call, text or Whatsapp message me on 07980 870 671
Only a small deposit of £37 each required, with the balance only payable on arrival in France...
...so plenty of time to save up.
Fish caught in one day of June 2019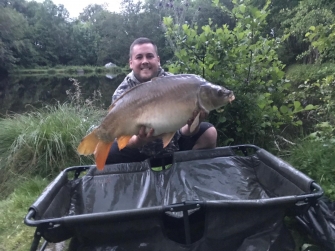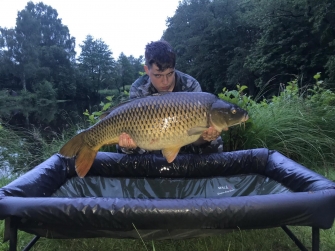 .....................................................................................................................................................

These are the sort of size fish you can catch with us...why would you want to miss out?

The Very Best Value Carp Fishing in France - only £325 per week each!

Nice Fish Andy!
Here it is, the best all-inclusive deal in France in 2020 & 2021
£325 per angler gets you airport pickup from Limoges airport,
gear hire and all your fishing for 7 days - And we feed you too!
...(the menu is excellent and all freshly cooked).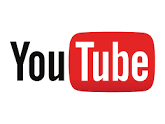 See Joe's fantastic Winter Week on YouTube
ONE WEEK'S BEST CATCH - 56.8lbs for Mr Lucky!
Book with us and you stand a very good chance of landing a fish such as this.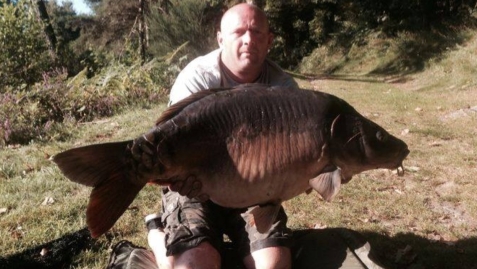 A
WEEK'S BEST CATCH FROM
SHAUN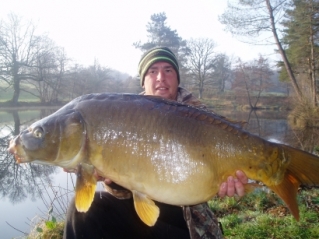 NICE FISH MATE!
And if you've never caught a sturgeon before... check this out - over 30lbs!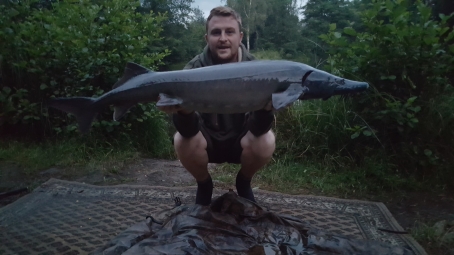 We have Sturgeon and some catfish too
Fish in France.net invites you to come and fish for
Big Carp
at our 2 fantastic lakes in the beautiful French Lake District. You are especially welcome if it's your first time in France - this is a chance not to be missed. We are an all-inclusive only venue, with Drive and Survive only available in the months of November, December, January and February.

Our all-inclusive deal

is outstanding, please check it out!
Lakes 1 & 2 = Top Lake and Bottom Lake. 2 small lakes in 4 hectares of land with Carp to 60lbs - an awesome place to fish!
Don't forget we are open for carp fishing holidays all year round at both lakes-
24/7 day and night
and you don't need a permit to fish with us... Bivvy Heaven!
COMPARE OUR PRICES AND GIVE ME A BUZZ