We offer an all-inclusive package deal for those flying in
It includes free flight pickup and drop off from Limoges Airport (LIG), 24 hour fishing for seven days - we have a special licence, so you don't need one...and tackle hire.
Ask me about food too!
Items you will need to bring with you are your bite alarms, reels and end tackle, together with a sleeping bag....the rest we do for you!
This is strictly a Saturday to Saturday deal and based on two anglers sharing a lake.
but if your planned flights only leave on a Friday or a Sunday,
please call me - we can work it out (Thank you Beatles!)
It's on offer to groups of two anglers or more and costs just £325 per head for the seven days at lake one or lake two (or both of course if 4 or 5 anglers). Baits are not included in this deal but prices for these can be found on our prices page.
If you would like to know more about this offer then please call me
to chat over available dates.
The deposit is just £37 and the balance per head of £288 is payable in the local currency (Euros) on arrival, to the lakes' manager, Dave.
The Process:
Call me for info and available dates

Check these dates with your party and confirm your choice with me

Check but don't book suitable flights for your party - remember it's Limoges' Bellegarde Airport.

Pay your deposit(s) with me - via bank transfer over the internet, PayPal or cheque - I cannot take card payments over the phone, sorry.

I shall confirm deposit payment(s) via email as soon as they land in our account

I shall send over to you all contact details, arrangements and any other relevant info

Search out and book your flights and give me the details of them...

Dave will contact you via email or phone from France to welcome you aboard - he is the lakes' owner and manager.
It's as simple as that!
Remember there are upwards of 250 good sized mirrors and common carp in each of these lakes and also some good sturgeon and grass carp too. Check out the gallery to see the sort of fish and the superb condition they are in.
I look forward to hearing from you. Chris K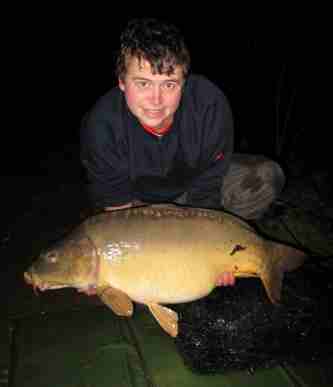 Just one of the fabulous fish in Lake one - there are hundreds more!
Please be aware that deposits are non-returnable if cancellations are made within 42 days (6 weeks) of bookings being taken.